Wednesday 12th August, 2020
As the heat continues, we are getting the horses out as early as possible.  It makes 5am in the morning look very acceptable and it really is the best time of the day, more people should try it.
Worked a few of the string this morning and have pencilled in some races for the end of this month.
It was great to welcome Tot Calver and Jenny Stowell yesterday to watch Beautiful People and Organdi canter on the gallops.  They are members of the Beautiful People syndicate who came on our original trip to France when they were both purchased.  The two mares have done us proud and we look forward to them continuing to do so.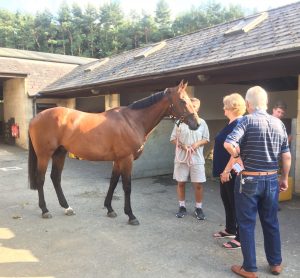 It was great to welcome Adrian and Linda Wright to evening stables yesterday.  They have both been great supporters of the yard for many years and we have had some great winners and days together in that time.  At present they are members of The Adlestrop Club and the Race Against Prostate Cancer syndicate with Roundhead.  The latter looks in great nick is due for a run over hurdles soon.  There are only a few shares left in this syndicate which is only £1000 all in per share until the end of March.  Please do be in touch if you'd like to join the fun.
Yesterday the BHA appointed Julie Harrington as their new Chief Executive.  Julie has a hell of a task ahead of her but hopefully with her knowledge of racing and in administrating other sports, she will be able to organise the 'bag of cats' affectionately known as the racing industry.
I personally think it's a very good image for the sport to have Annamarie Phelps as Chairman and Julie as Chief Executive.  In some people's minds racing is a male dominated sport which is certainly far from the truth and the sooner Hollie Doyle is champion jockey the better, as she is certainly good enough.
It was announced yesterday that Phoenix Thoroughbreds will no longer operate in Britain.  There has been much scrutiny over the workings of the international racing and bloodstock group and I doubt if this Phoenix will be rising from the ashes in the foreseeable future.