Racing Staff Week
Not many runners at present but we have Exclusive Rights and Viva Rafa entered in the next few days.  The horses worked nicely yesterday morning with Tom Bellamy in to ride out.  Lots of steam cleaning and painting going on for the new term ahead, with the pupils coming off their holidays soon.
Been busy going through the catalogue for next week's July Sale to try and add to the string.
I went over to see owner/breeder Sue Welch's young stock this afternoon and it was great to see Giovanna (pictured) and Tiger Line amongst others, who we used to train.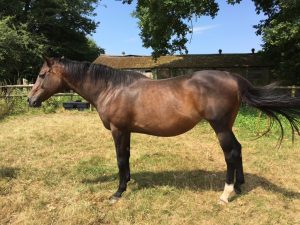 Sue has bred many winners over the past few years and I am sure we have seen a few more future winners in her paddocks today.
It is 'Racing Staff week' and  many thanks to Adam from Racing Welfare for bringing doughnuts for the staff today.  The team are working very hard in this very warm weather and very much appreciated the gift.