With one of the warmest Easters on record, we have given tomorrow a miss with Iron Horse at Ludlow but hopefully some rain will appear mid week and we can get him out on either Thursday or Friday.
Charlie Poste came in this morning to school Master Vintage who will hopefully run at Southwell on Wednesday, whilst Danny Hiskett goes to Taunton to ride Bella's Vision.
Congratulations to Danny for riding a winner at Plumpton yesterday and his claim is now down to three pounds.  He will continue to be good value for his claim and we look forward to him riding us many more winners.
Danny gave me a lift to Plumpton yesterday where I was a guest of Peter Savill and family for their annual Easter lunch.  It was great to catch up with so many friends.
There was a great atmosphere at the Sussex track on their family fun day and it was good to go down to the last fence to hear jockey David Crosse explain to the public, more about the racing world.
The more racing interacts with the public the better and Tim Thomson-Jones and I accompanied David to the last to see Danny ride his winner.  Tim was one of the best amateurs you will ever see and also a Festival winning trainer.
David asked Tim how many Festival winners he trained, to which Tim replied, "A couple."
Crossey not letting down his pedigree replied, "How many is a couple?"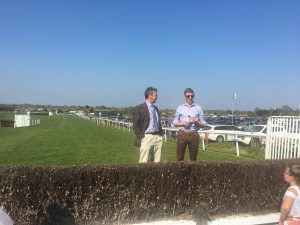 Congratulations to our assistant trainer Hannah Gregory on riding a winner at Sandon on Saturday.  For the second year running she won the ladies open and she gave her mount Martha's Benefit a fine tactical ride.