Ladies Day at Royal Adlestrop
We had a very enjoyable Ladies Day at Royal Adlestrop yesterday, raising money for prostate cancer.  Sixty members and guests of The Adlestrop Club attended the annual soiree in Adlestrop Village Hall.
As many will know, there always a theme and this year it was stars or stripes – with everyone having to wear something from a charity shop in the theme.
This year there was no worst dressed prize, as Brian Duckett looked very fetching in his blue and white stripy dress.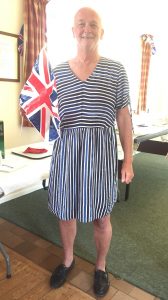 However thanks to very strong competition, there were two best dressed winners in Helen and Moira.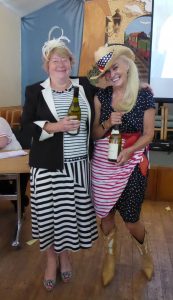 The tipping competition for the Fred Cooke Mug was won by Louisa Harvey, in a very close run finish.
This year's penalty shoot out was also extremely competitive with R Phillips being beaten in the final by John Kilsby.  Phillips blaming himself for a very poor penalty and also John Rosbotham for some very poor goal keeping when faced with Mr Kilsby.
Many thanks to all who attended and once again we look forward to next year.